Try a new halloween maze in Mount Airy's Haunted Circus Mansion
Marielle Mondon

---
Have you already gone through Terror Behind the Walls at Eastern State Penitentiary more times than you count? If you're in need of a new attraction, a Haunted Circus Mansion opens this weekend in Mount Airy, complete with spooky performers and an after-party.

The event takes place in one of the neighborhood's oldest mansions, dating back more than 100 years, at 6452 Green St., the home of the Philadelphia School of Circus Arts. For the next two weeks, the former church will transform at night into the haunted maze, offering two paths – one more family friendly, the other more chilling.
---
---
"The building and grounds have so much character and personality, they are the perfect backdrop for our students and faculty to showcase their skills, perform for the public and create an exciting new Halloween tradition," said Adam Wooley, coordinator of the event.
For kids and less horror-inclined adults, the Cellar Path is the way to go. The option will still include some PG-rated scares and tightrope walkers, as well as classic Halloween characters and fixtures.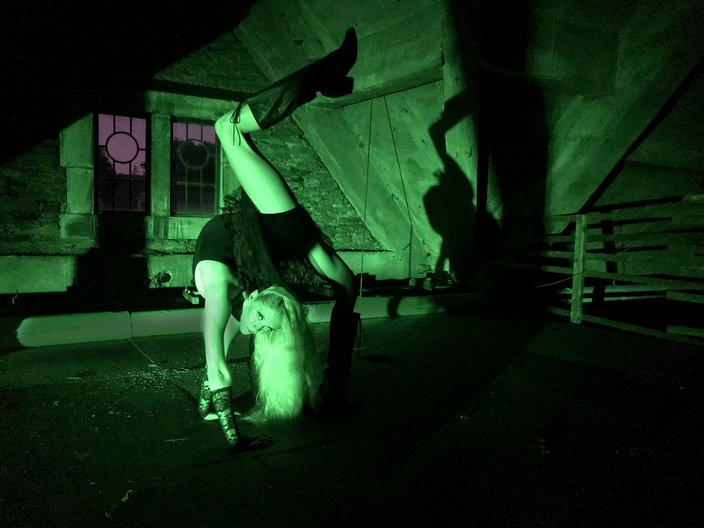 Philadelphia School of Circus Arts/Aversa PR
Get ready for spooky performers at the Haunted Circus Mansion.
If you're up for something a little more intense, head up to the Attic Path, which is a little more evocative of the frights at ESP and other haunted houses in the area. The castle sets the scene of a "seance gone wrong," wherein spirits have been woken up and are ready to create chaos. Parts of the Attic Path include blind-folding and (nonviolent) touching.
After you've made it through the frights, you can celebrate with drinks, performances, bobbing for apples, and circus performers at the castle after-party.
Tours through the haunted house are offered from 6 p.m. on Saturday, Oct. 20 and Oct. 27.
Tickets range from $5-$10. Find out more details here.
---